Where you are starting from with your Wicklow 200 training plan? Your starting point will depend on the time of year and your current level of fitness. The most crucial starting point is making a decision to enter the Wicklow 200 sportive event. Then beginning to create your own training plan.
A key focus area with your training plan is to review what you have achieved in your current season. And then write down what goals you want to achieve in the coming season!
Example: If you are in your end of season phase, then you should always include a period of recovery, both mentally and physically. One or two weeks is usually a recommended guideline but you can allow more time than that, if you wish.
For me, the simple aim should be to avoid the need to get back on the bike for the weekend training rides for at least two weeks. That will help recharge the batteries mentally and allow you to look forward to getting back out on the road.
But you have probably read that you can't go two weeks without training due to the loss of fitness. All that hard work during the season to build your fitness would start to disappear. Or at least this will be the concern for a rider who has completed a full season of events. A simple, yet effective way to slow this fitness decline during your 2 weeks of recovery, is to simply ride on the turbo or smart trainer, once, every 5 days for 45 mins, during this period.
The transition from road to turbo or smart trainer will also help the mental change. It will start to prepare the mind for the transition into the early winter season. The key marker is always when the clocks go back! The evenings get darker and of course a lot colder in Ireland and the UK.
Build your own Wicklow 200 training plan
Sign up here to get your free training plan.
For a Sportive / Granfondo rider (someone who doesn't race open events but has maybe ridden up to 5 events during the season) then the guidance for riders of 30 years of age or over, you should consider using a rolling 3 week training plan. Not the traditional 4 week training plan. The 3 week plan is equivalent to a Junior protocol. What I mean here, is that you build for two weeks and then week 3 becomes the recovery week. A recovery week does not require you to reduce intensity but you should adjust volume. A turbo or Zwift session for example, can help keep the intensity high. This works very well, especially when the bad weather kicks in. Over the winter training months its likely that you would miss a weekend road ride.  
Any cycling training plan needs a simple focus and a clear strategy. It needs to be appropriate for the rider based on their current fitness level. It needs to be progressive. And most importantly, it needs to be specific for the time of year.
Appropriate Wicklow 200 training plan
A rider that is relatively new to the sport would not be able to match a similar weekly training workload compared to a rider with 10 years cycling experience and competed multiple sportive events. You also must keep in mind what your weekly environment looks like – work, family, travel. Everything must be in balance or you will fail to get the consistency that is appropriate to your level in order to progress. Work, life, sporting balance is a key metric to use when building your Wicklow 200 training plan.
Example: As a junior rider I could put in a 3-4hr training ride on a Saturday over the Wicklow mountains and then follow this up with a 3hr+ ride on a Sunday morning. And then, at times, over the winter months, go for a run late on a Sunday afternoon. These days my body could not cope with such a workload! With a busy work routine and two young kids, my current fitness and weight levels are a lot different.
As I am lucky to commute to work by bike, up to 4 days a week, I therefore don't ride on a Saturday (swimming classes with the kids and my official rest day). But I do ride on a Sunday morning. By assessing my current fitness levels against my goals for next season, it will allow me to see what is appropriate. And in turn, what is achievable for my chosen sportive events.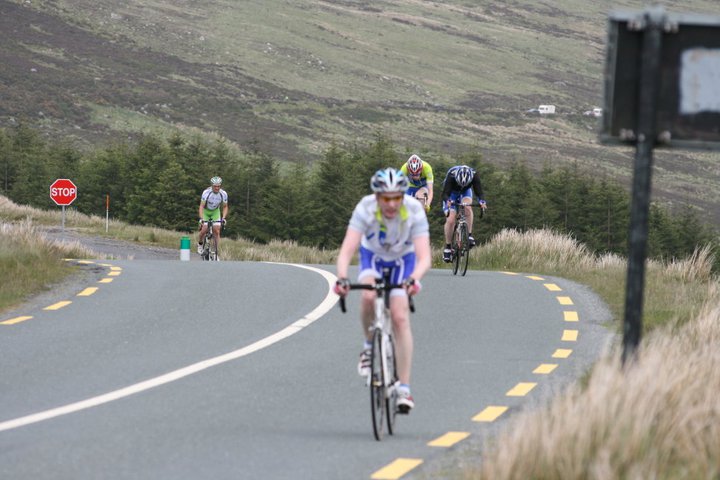 Progressive Wicklow 200 training plan
A really useful and simple rule of thumb to work with for training progression is to apply the 5% rule. The 5% rule of training progression simply means that you progress your training by 5% in your build weeks.
By working with this logic, you can apply a mathematical formula to plot out your weekly training hours (see excel file). When you review the number of hours you currently ride, adjust for the time of season you are starting from. Then by applying the "Junior Training Protocol" of 2 weeks of building and 1 week with reduced workload (either volume or intensity), you start to get a good picture of what is possible for your goals next season.
Of course you can get a lot more scientific by using the many digital platforms available. You can log all your training sessions, rest days, the number of calories you consume each day. It will give you a marker or number of where you are currently are with your fitness. The algorithm behind this data is only useful once you have completed a fixed period of training. A digital program like Strava or Training Peaks for example, can show your training stress scores or TSS. This is one of the most popular out there. And of course, very useful, when you get to that level with your fitness and training plan.
Do your training plan numbers bring you to being capable of riding the Wicklow 100 or the Wicklow 200?
As someone almost once said "it's not all about the bike". You need to cross train to maintain a healthy and balanced body. Running is a simple way to get in some impact training on the body. Which is now proven to be very important for riders that are getting older. But I wouldn't stop there. A good strength and conditioning program is one of the most important cross training sessions. You should consider adding it a couple of times to your weekly workouts.
In fact, strength and conditioning training shouldn't be just for the winter season, it should be a year round activity. Especially for riders who are office based, like myself. Again keep in mind that this type of training needs to be appropriate for the time of year. If you are fortunate enough to have a job where you can lift your own body weight every day then training in a gym could be more cycling specific. Strength training can in time be rolled over to the bike where you build specific muscle strength for those Wicklow 200 climbs like the Wicklow Gap.
Specific Wicklow 200 training plan
Trying to do 6 hour rides in the Irish winter is not appropriate for many, if any sportive riders. Aiming to ride twice a week in the dark and cold winter rain, is also not an appropriate focus. So where is your starting point?
Do you have a safe route for a commute to work? Can you go for a run once or twice a week? Can you get into a gym once or twice a week? Do you have a turbo or smart trainer?
Can you ride at the weekend? Will your fitness allow you to ride for 3 hours? If not, how long until you build up to a 3 hour ride? The long steady distance ride or endurance ride at between 60 – 75% of maximin heart rate, it still the cornerstone of any training program. Especially for new riders and riders returning after a long break to the sport.
Of course, high intensity interval training can produce great fitness numbers. Even in short training sessions. But remember the need for specific training, if you are aiming for the Wicklow 200. This could see you spend 7 to 12 hours in the saddle on the day of the event.
Are you being specific enough?
Your training needs to be specific to your goals next season. You build over time and allow them to be changeable, just like the seasons. Has your autumn transition brought a rest period of one to two weeks? How are you structuring your early winter season and your pre and post Christmas period, if you have time off?
What about the new year? Are you lucky enough to head off on a training camp in warmer climates during the winter season? How are you planning to build into spring and start riding different events to progress your training level? Click here to read my top 5 Wicklow 200 training tips guide.
But most importantly, is your training balanced and enjoyable to get you through the dark nights of winter?
Weekend endurance ride
Turbo intervals
Running
Strength and conditioning
Swimming
Yoga
Walking
Recovery day
The list can go on and on for many different training plan variants. But what you need to consider is what works for you and your available time. Don't aim for an hour on the turbo when you have to drop the kids to football training and wait around. Don't waste the free time sitting in the car or coffee shop eating cake. Bring your runners and go for a run. Thirty minutes makes an excellent weekly cross training session. And after a couple of runs, when it gets easier (it will get easier), you will probably start to enjoy it.
If your time is limited, can you train before you leave for work? On your commute to work, if the roads are safe enough? Not as easy these days with all the traffic and depending on where you live and work. Trust me it's not worth the extra risk if the roads are too busy (see blog post).
"It never gets easier, you just go faster".

Greg LeMond, 3 time Tour de France winner and double World Champion
Can you train at lunchtime? On the bike? At the gym? Out for a run? Swim? What about going for a walk? It all counts and adds to your cross training fitness bank over the winter months. The long endurance sportive events of the summer like the Wicklow 200 require a strong body and mind. Not just strong legs and heart. Find new ways to be creative. Don't let old Skool thinking cloud you from what is possible in order to find ways to adjust your training routine. Keep putting the credits into your fitness bank account.
Twitter – some useful related tweets
Now it's your turn to start building your own Wicklow 200 training plan. Use the excel file that I have created and see what your plan starts to look like. Do you have a good mix of sessions to vary your training? But more importantly after you get started, are you sticking to the training plan? Is it too much? Or it is too little?
Adjust accordingly. Remember depending on the season and where your fitness level is coming from, if you push too hard you will end up getting ill and need time off to recover. Recent studies have shown that any rider who misses 2 weeks of training over the winter months are 25% less likely to complete their goals the following season. Consistency is key! Knowing when to back off and avoid an illness by having a rest day or five is key…….. 
This post was first published on 23 December 2019.
Latest posts by Peter James Tompkins
(see all)