5 bright tips for buying bike lights
It's that wonderful time of year again when the clocks go back an hour to signal the end of summertime. The darker evenings might be focusing your mind on buying bike lights. Or more importantly, for every cyclist out there, it signals the start of winter training. A chance to improve on what you achieved this year. A time to reflect on a long bike season, whether it was in races or sportive events.
Your goal, I would assume, is always to do a little better next season by getting more quality miles in the legs this offseason. And as a result, you are now seriously thinking about buying a set of bike lights which will increase your amount of ride time over the winter months. Mainly because your mate Dave swears by it and rides over 300kms a week every winter!
How much to spend?
How much money can you part with to buy a front bike light versus how much should you spend on a rear bike light? This is always going to be a key question. In simple terms, spend what you can afford. Or another way of viewing it, spend what your partner will allow you to spend. Unless you can make use of that cycling friendly company, who will issue a receipt for what you told your partner they cost!
Do I really need a set of lights? If you want to ride outside, at night, when its dark, then yes you do need a front light and a rear light on your bike. In fact, I would go a step further and say you need a backup set if you are commuting on dark roads. So where to get started? Your local bike shop is a great place as you will get some great advice from experienced cyclists and likely commuters. Of course, the internet will provide a vast array of options. In fact, when you type "bike lights" into Google, you will get returned 18.2 million options and links to click over a wet weekend.  To save you the endless hours of reading, here is a great review and a fantastic guide to check out on the topic:
A little further guidance
Even after searching through many websites and pricing hundreds of different lights, I was still a little overawed. The awesome selection available these days is truly amazing. Plus the quality on offer is mind-boggling. Please keep in mind that the very first bike light I ever had, required two of those massive batteries and weighed around 6kgs. They would nearly tip you over the front bars when attached to my mountain bike when I was riding across the Curragh Plains. It was just too heavy to even consider attaching to my road bike.
So I did what any sane person would do. I simply asked for help and advice from fellow cyclists and commuters on how much to spend. I was guessing that this would narrow the options very quickly. The incredible cycling community over at UK Cycle Chat kindly responded with lots of tips, advice and some monetary numbers:
@UKCycleChat How much should you spend on bike lights? #ukcyclechat

— Peter James Tompkins (@TompkinsPJ) September 20, 2016

A massive 92% said it should be under £100 with 50% saying it should be under £50. If you are on twitter then I would recommend you check out their handle.
Front bike lights
Both articles I referenced take a different viewpoint on how to select your bike lights. One is based around how you will use the bike lights and more importantly where you will use them. The second goes into a fantastic comparison table covering lumens, weight, modes, runtime, and cost. Once you have selected your price range then you can move on. Next up is lumens (basically how bright the light will be) in order to reduce down your selection. After price and lumens, your next selection in the process is run time. You need to make sure that you have enough charge to get you home on a dark night. USB charging was also a key factor in my final decision. I didn't want to be constantly carrying a set of spare batteries.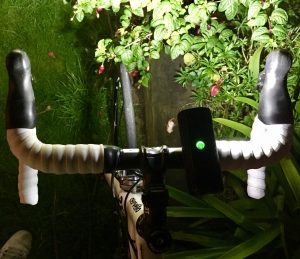 In the end, which front light did I choose? I selected a Lezyne with 1200 lumens and was USB chargeable. This is done via a small cable attachment into the light and connects with your computer or a USB plug. Mounting and dismounting from the bars is quick and simple. It is important especially if you are doing a daytime ride at the weekend. The 200g+ reduction in weight means you are happy to remove it for some daytime rides. As you can see from the picture, the output is fantastic from such a small device.
Rear bike lights
For my rear bike light, I went through the same process as above. But selecting a rear bike light was a much quicker process due to the options available and pricing. Coincidentally I ended up selecting a Lezyne rear light that attaches to the seat post and is USB chargeable. To charge, you simply remove the rubber connection from the bike light and plug into your USB charger. With the in-use options, you can select the flashing mode and increase burn time while out on the road at night.
Lumens and the law
In the UK, the Highway code has Rules for cyclists (59 to 82). Rule 60 covers the area of bike lights when cycling at night. In Ireland, the rules are covered under the Road Traffic (Lighting of Vehicles) Regulations 1963, as amended. Make sure you are aware of these rules and follow them for your safety.
Finding your answer
Speaking of road safety. Before you plunge headlong into your search for new bike lights, maybe consider the following questions first. Ask yourself one simple question before you go out on a dark road – why are you doing this?
Should you even be out in the dark hours of winter riding your bike? Is it really necessary? Do you need to get in these dark winter miles? Are you potentially putting your life at risk to shave a couple of seconds or even a couple of minutes off your time next July? We are constantly hearing about all the terrible accidents on the roads of the UK and Ireland in the news.
If your decision means you are comfortable with the added risk then stay safe on the roads this winter. Make sure you are lit up like a Christmas tree. If you decide against going out on the road in the dark, remember you could always buy a turbo trainer!
5 tips summary
Decide on how much you can spend
Its all about the lumens
Runtime and USB charging
Know the law wherever you ride
Think before you buy
Enjoy your time on the bike this winter, no matter what time of day you ride. If you want to know what decision I made, then tweet me or ask on my facebook page.
Cycling Coach
This article was published on 29 October 2017.
Latest posts by Peter James Tompkins
(see all)